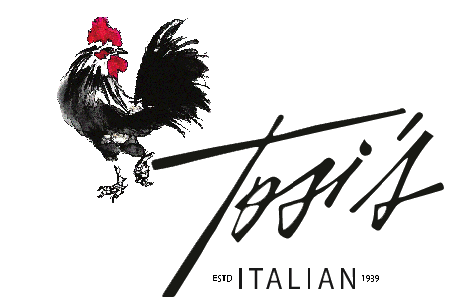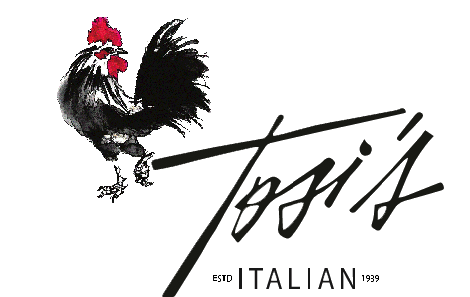 "Choose only the finest basic ingredients to prepare your cuisine,
serve it efficiently in a pleasant atmosphere, and love your fellow man." –Emil Tosi
The McCrery Family welcomes you to Tosi's Italian, a dining experience unlike any other.
What our founder, Emil Tosi, started in 1939, continues today, eight decades later. A family tradition, so very important to Emil is evident throughout the Tosi's culture from the back-of-the-house to the front-of-the-house. Each day we honor the legacy that Emil created by using his original recipes, techniques and traditions passed down to us by our peers and mentors, all who have served Emil's credo.
How fortunate we are to have worked with some of the best in the culinary industry, a team of people with a strong work ethic, a mindset of dedication and service, all focused on you, our Tosi's dining friends.
Each dish created from our kitchen is handcrafted, using the freshest ingredients, many from our private herb garden, and prepared to be savored by you. Whether this is your first time dining at Tosi's, or you've been a loyal customer for decades, we honor you for letting our family preserve Emil's legacy as we continue to create the future. Buon Appetito!
Dan and Lori McCrery

Tosi's Holiday Calendar
Closed
Mon. Dec. 23 – Wed. Dec. 25 for the Christmas Holiday.
Reopening Thur. Dec 26, 2019
Roll Back!
Thur. Dec. 26, & Mon. Dec. 30!
Tosi's New Year's Eve Celebration!
Tue. Dec. 31 Opening @ 4:30 pm
***No Reservations That Evening***
Closed
Jan. 1 – 16, 2020.
Reopening Fri. Jan. 17, 2020!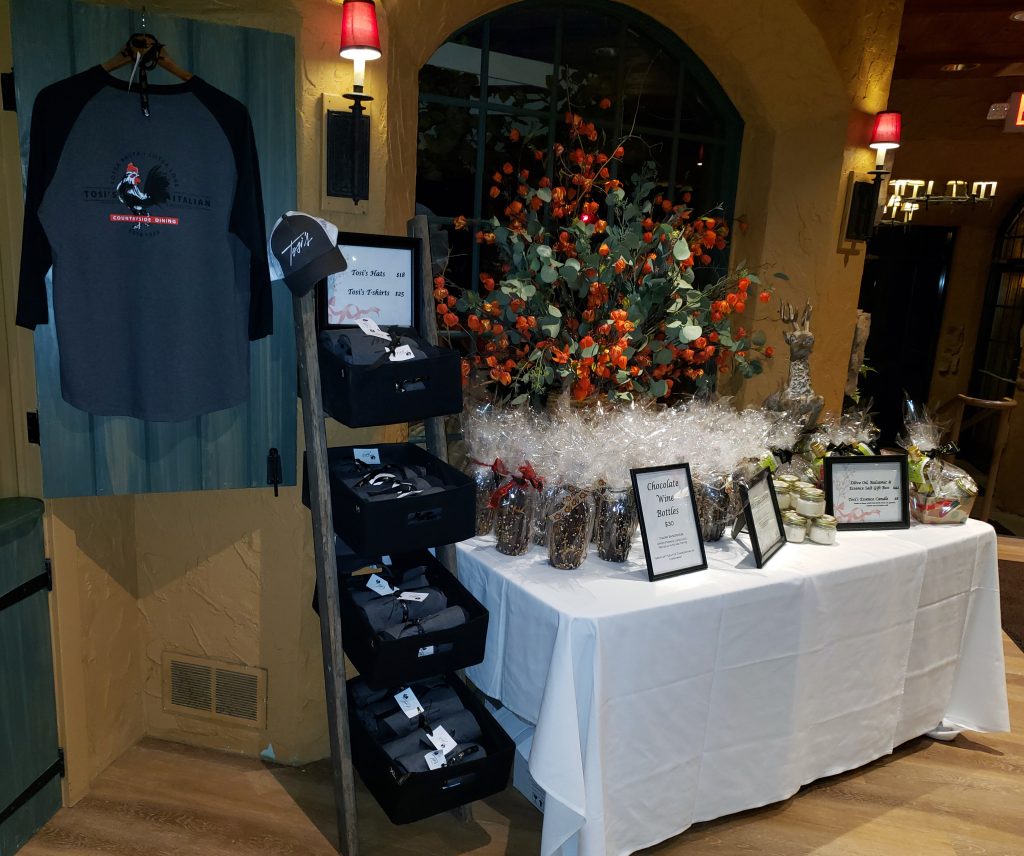 Next week for your convenience, we will be having special days and hours that you will be able to come in and buy gift certificates and other gifts that we offer for your holiday gift giving needs.
**We will be open the following days starting at 1 p.m.
Wednesday, December 18
Thursday, December 19,
Friday, December 20
Saturday, December 21.
**Please be aware that these hours are for buying Tosi's gift certificates and gifts only. We are not open for lunch. We start seating for dinner M-F at 5:30 and Saturday at 5, Closed Sundays.
Give a gift this holiday season from a local business! Tosi's offers several fine locally crafted gifts that reflect the unique fine dining experience you come to expect here at Tosi's Italian. Any of our gifts will make great gift ideas for Christmas… Thanksgiving…or Just Because!
Tosi's Chocolate Covered Wine Bottles
Handcrafted in-house by Lori McCrery
$30
Italian Sangiovese dipped in Premium quality Chocolate, Pretzels, Nuts, and Toffee.
Tosi' Essence Candles
$8
Crafted in-house with herbs from our garden, lemon zest, and Essence Salt.
Tosi's Gift Box
$42
Consisting of Tosi's Olive Oil, Tosi's Balsamic Vinegar, Tosi's Essence Salt.
Tosi's Hats and T-shirts
hats $18 / T-shirts $25
Tosi's Gift Certificates
One size fits all. Handwritten & personalized, (not common plastic cards)
Gifts may be purchased Monday – Saturday after 5 p.m. We are closed Sundays.
New Year's Eve Celebration!
Tuesday, December 31st
Let's start celebrating 2020 here @ Tosi's Italian!
We will be opening at 4:30 that day with our full Dinner Menu!
Along with some great specials by Executive Chef Mike McCrery!
***Please be aware that we will not be taking reservations that evening.***

We recommend that you please call ahead and place your name on our priority seating list. We will get you seated as close to your requested time as possible.
(269) 429-3689 Valet Parking is Available!